During the production process, Lazervida will rigorously test the product to
ensure the quality and reliability of the product before shipment. However, the
product may not perform as expected in some cases. If there is any malfunction,
don't hesitate to get in touch with the customer service department to find out the main cause of
the situation.
Before applying for technical service, please confirm that your product has
been installed and used correctly according to the instructions of the user
manual and help center.
Warranty period
1. The warranty is limited to the main part of the product
(excluding consumables such as laser safety goggles, tweezers, screws, fasteners,
wrenches, the wood piece, user manual, light shield, and outer box packaging).
2. Products must be purchased through an authorized Lazervida channel.
The warranty rights are non-transferable.

3. Users must provide the following information to exercise the warranty
rights.
a. Provide the machine serial number.
b. Invoice or relevant proof of purchase.
c. Technical troubleshooting record with Lazervida support team.

4. During the warranty period, Lazervida provides the following services.
Replacement of components will not affect or extend the warranty rights.
a. Online customer service.
b. Components provided (including freight) and assistance to help users
replace themselves through online customer service.
The warranty date starts from the date of shipment.
The warranty period of the product starts from the date of shipment. The warranty does not cover consumable items. Please refer to the table
below for the warranty period for each product :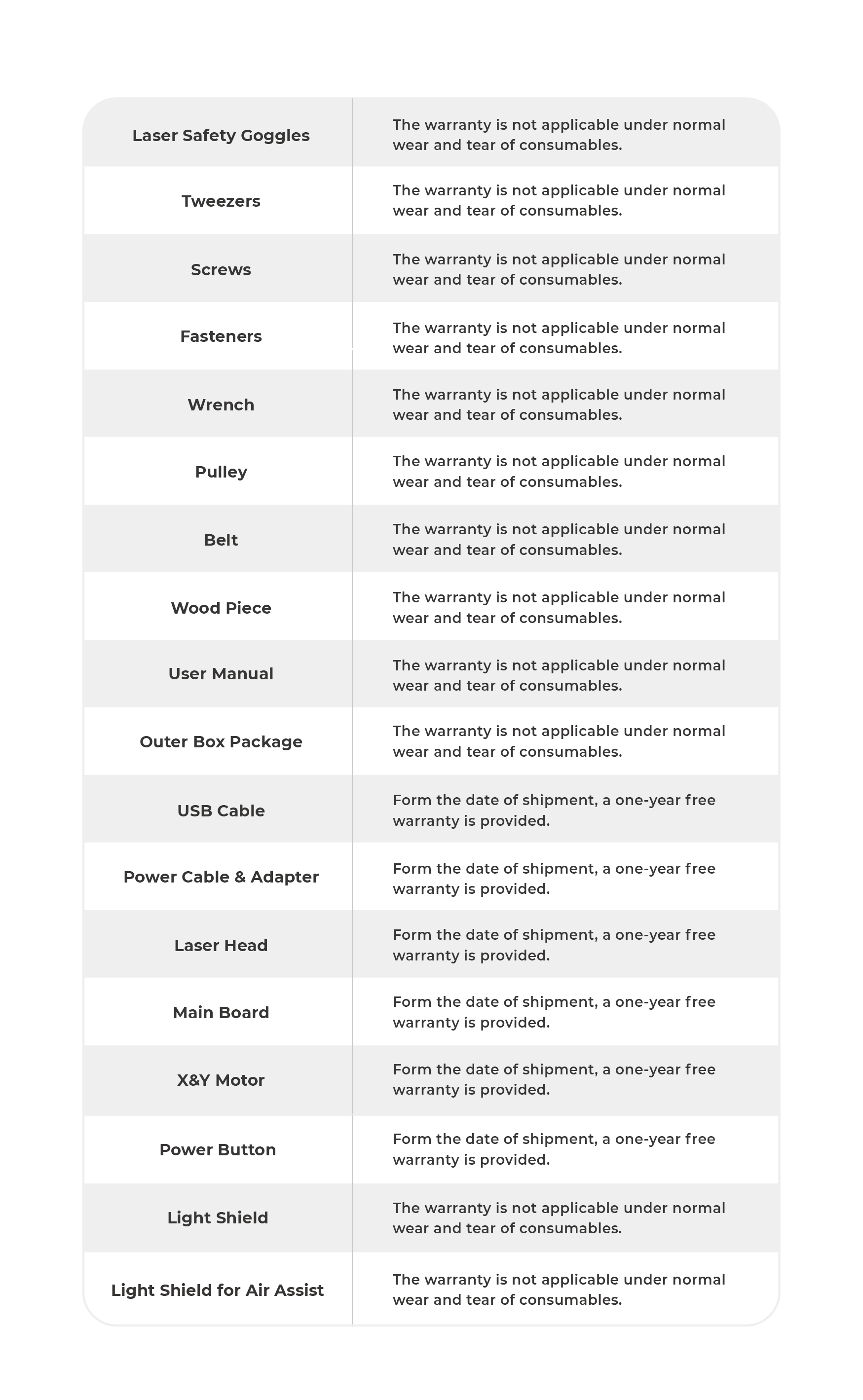 Also, Warranty terms are exercised according to local regulations, as the
following explanation:
As a Lazervida consumer, you benefit under certain conditions from additional
warranties. Lazervida offers specific consumer warranty benefits, which are in
addition to, and not instead of, any legal warranties provided by your national
consumer law. The duration and conditions related to the legal warranties are
provided by respective local laws.

Service after warranty
1. Lazervida will continue to provide online technical support services

2. If Lazervida's components need to be replaced, users will be responsible
for all shipping and component costs after the warranty date.